Das Konzeptalbum 666 von Aphrodite´s Child erschien 1972. Es war das dritte und letzte Album der Band.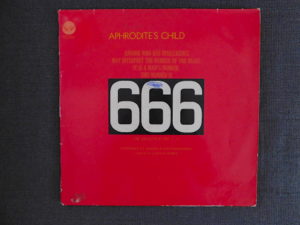 Die griechische Band Aphrodite´s Child existierten von 1968 – 1972.
Zwei der Musiker sollten später berühmter werden. Zum einen der Keyboarder Vangelis, der später mit seiner elektronischen Musik Musikgeschichte schrieb. Zum anderen der Bassist und Sänger Demis Roussos, der in späteren Jahren in deutschen Hitparaden auftauchte.
Vangelis spielte auf diesem Album auch Flöte und Perkussion.
Am Schlagzeug saß Lukas Sideras, der teilweise auch sang.
Gitarre und Perkussion übernahm Silver Koulouris
Das Album wurde schon 1970 im Europasonor Studio in Paris aufgenommen.
Das es erst 1972 erschien, lag daran, dass das Label, Mecury Records, nicht wollte, das der Song ∞ (Unendlichkeit) erschien. Naja. Als "Song" kann man ∞ eigentlich auch nicht bezeichnen. Vangelis spielt Percussion und die Schauspielerin Irene Papas stöhnt dazu immer wieder "I was, I am, I am to come". Wonach das klingt, kann man sich vorstellen 😉
Schließlich einigte man sich darauf, den "Song" zu kürzen. Und zwar auf 5:15 min. Ursprünglich sollte dieser (für mich) nervende "Song" ca. 39 min!!! gehen. Das sich Mercury Records dagegen wehrte, ist verständlich.
666 ist ein Konzeptalbum, welches eine Vertonung der Offenbarung des Johannes ist. Das Album wurde von Vangleis zusammen mit dem Lyriker und Regissuer Costas Ferris konzipierte.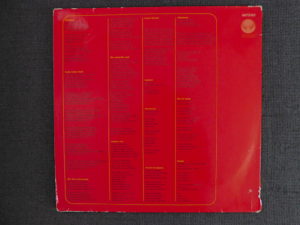 Die Songs:
Seite 1:
1.  The System
2.  Babylon
3.  Loud, Loud, Loud
4.  The Four Horsemen
5.  The Lamb
6.  The Seventh Seal
Seite 2:
1.  Aegian Sea
2.  Seven Bowls
3.  The Wakening Beast
4.  Lament
5.  The Marching Beast
6.  The Battle Of The Locusts
7.  Do it
8.  Tribulation
9.  The Beast
10. Ofis
Seite 3:
1.  Seven Trumpets
2.  Altamont
3.  The Wedding Of The Lamb
4.  The Capture Of The Beast
5.  ∞
6.  Hic et Nunc
Seite 4:
1.  All The SAeats Were Occupied
2.  Break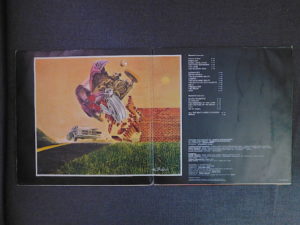 Hier findet Ihr den Link zum Album.