Apostrophe (') ist das insgesamt 18. Studioalbum von Frank Zappa. Es ist sein 5. Studioalbum als Solokünstler uns erschien in Deutschland am 22. April 1974.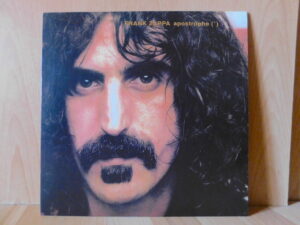 Das Album wurde sowohl in in Stereo als auch Quadrophonie veröffentlicht und erhielt mit dem Song "Don´t Eat The Yellow  Snow" Zappas ersten Singlehit. Dieser erreichte zwar "nur" Platz 86 der Singlecharts, aber immerhin…die Musik von Zappa ist  …nun ja…nicht für Hitparaden gemacht.
Am 07. März 1976 wurde das Album mit einer Goldenen Schallplatte ausgezeichnet.
Die Songs:
Seite 1:
1.  Don´t Eat The Yellow Snow (2:07)
2.  Nanook Rubs It (4:38)
3.  St. Alphonzo's Pancake Breakfast (1:50)
4.  Father O'Blivion (2:18)
5.  Cosmik Debris (4:14)
Seite 2:
1.  Excentrifugal Forz (1:33)
2.  Apostrophe' (5:50)
3.  Uncle Remus (2:44)
4.  Stink-Foot (6:33)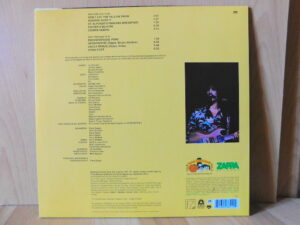 Mitwirkende Musiker:
Frank Zappa – Gesang, Gitarre, Bass, Bouzouki
George Duke – Keyboards, Hintergrundgesang
Napoleon Murphy Brock – Saxophon, Hintergrundgesang
Ian Underwood – Saxophon
Sal Marquez – Trompete
Bruce Fowler – Posaune
Don Sugarcane Harris – Geige
Jean-Luc Ponty – Geige
Tony Duran – Rhythmusgitarre auf Apostrophe'
Tom Fowler – Bass
Erroneous – (Alex Dmochowski) – Bass
Jack Bruce – Bass
Ralph Humphrey – Schlagzeug
Aynsley Dunbar – Schlagzeug
Johnny Guerin – Schlagzeug
Jim Gordon – Schlagzeug auf Apostrophe'
Ruth Underwood – Perkussions
Kerry McNabb – Hintergrundgesang
Ray Collins – Hintergrundgesang
Sue Glover – Hintergrundgesang
Debbie – Gesang, Hintergrundgesang
Lynn – Gesang, Hintergrundgesang
Robert "Frog" Camarena – Gesang, Hintergrundgesang
Ruben Ladron de Guevara – Gesang, Hintergrundgesang
Aufgenommen wurde das Album 1969, 1973 und im Januar 1974 in den Electric Lady Studios (New York) und in den Inglewood und Paramount Studios (Hollywood) Produziert wurde das Album von Frank Zappa.
Es ist damals auf dem DiscReet Records Lable erschienen.
Für mich ist dies eins der besten Alben von Zappa, der eine ganze Menge an Output hatte.
Er war ja auch ein genialer Gitarrist, was auf diesem Album auch gut zu hören ist. Vor allem im Song Apostrophe'.